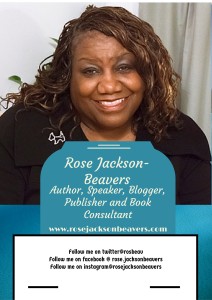 Author • Workshop Presenter • Publisher
Rose Jackson-Beavers is the owner of the Family Enhancement Center, a non-profit organization that focuses on enhancing the lives of families through a variety of programs such as employment, parent training, and home visiting. The organization is a federally approved Internal Revenue Service classification, 501 c (3). She is also the publisher/owner of Prioritybooks Publications. She has published work in numerous publications, including; A-Magazine, as a freelance writer and columnist; Spanish Lake Word Newspaper, as a columnist; and the North County Journal, as an opinion shaper. She has published six books and has published the works of twenty-four authors. She received her bachelor's and master's degrees from Illinois State and Southern Illinois University.
Currently, she is a literary columnist for a local newspaper. In this column, she recommends books to read to avid readers in several communities and cities.
Beavers have a vast amount of experience working with people of all ages though she is partial to teenagers. She also spends time working in church and volunteering for local organizations throughout her community. The East St. Louis native currently lives in Florissant, Missouri with her husband, of twenty-six years, Cedric and her college-age daughter, Adeesha.
She has presented workshops to a variety of audiences including:
Presented at the No Child Left Behind Conference
Head Start
St. Louis Community College Education Program
Black Leadership Roundtable Education Conference
Urban League
Healthy Start National Conference
In many high schools as the speaker for PTA & PTO meetings
Education 4 All Nonprofit Organization
St. Louis Literary Conference
Libraries and Book Festivals
Churches & Community Organizations
Her awards include:
Awarded Entrepreneur Phi Delta Kappa, Alpha Nu Chapter 2010
Torch Light Award for Working With Teens 2010
Nominated twice for Who's Who In Black St. Louis 2005 and 2006
Debut Author finalist for Backroom Confessions 2006 – Cush City
Dr. Martin Luther King Nominee
YWCA Award for Human Services